Locally owned and operated, STATCare provides medical services for family, occupational health, and urgent care in McComb and Summit, Mississippi and the surrounding area. 
Medical Health Care
Family Health Care
Urgent Care
Occupational Health Services
Drug Screening
American Express
Cash
Check
Discover
MasterCard
Visa
Patient Portal. If you have not registered for the Patient Portal, please contact our office at 601.250.1122.
Notice of Privacy Practices
We are required by law to maintain the privacy of Protected Health Information and to give you this Notice explaining our privacy practices with regard to that information. You have certain rights and we have certain legal obligations regarding the privacy of your Protected Health Information. This notice explains your rights and our obligations. We are required to abide by the terms of the current version of this Notice.
How We Use or Share Your Health Information
We can use your health information and share it with other professionals who are treating you.
We can use and share your health information to run our practice, improve your care and contact you when necessary.
We can use and share your information to bill and get payment from health plans or other entities.
We can share health information about you for help with public health and safety issues for situations such as preventing disease, helping with product recalls, reporting adverse reactions to medications, reporting suspected abuse, neglect or domestic violence, preventing or reducing a serious threat to anyone's health or safety.
We can share your information for health research.
We will share information about you if state or federal laws require it.
We can share health information with a coroner, medical examiner or funeral director for a deceased patient.
We can share health information about you for workers' compensation claims, law enforcement purposes, with health oversight agencies and special government functions.
We can share health information about you in response to a court or administrative order or in response to a subpoena.
Your Rights Regarding Your Protected Health Information
You have certain rights when it comes to your health information. This section explains your rights and some of our responsibilities:
You can ask to see or get an electronic or paper copy of your medical record and other health information we  have about you.  
We will provide a copy or a summary of your health information, usually within 30 days of your request. We are allowed to charge a reasonable fee for these records.
You may ask us to correct health information about you that you think is incorrect or incomplete. We have the right to deny the request but will tell you why in writing within 60 days.  
You may ask us to contact you in a specific way or to send mail to a different address. We will accommodate all reasonable requests.
You can ask us not to share or use certain health information for treatment, payment, or our operations. We are not required to agree to your request if it affects your care.
If you pay for a service or health care item out-of-pocket in full, you can request we not share that information for the purpose of payment or our operations with your health insurer.
You may ask for an accounting of the times we've shared your health information for six years prior to the date you ask, who we shared it with and why.
We will include all the disclosures except for those about treatment, payment and health care operations or disclosures you asked us to make. We'll provide one accounting a year for free but will charge a fee if you ask for another within 12 months.
You can ask for a paper copy of this notice any time.
You may choose someone to act for you if that individual has medical power of attorney or the individual is your legal guardian. That individual may exercise your rights and make choices about your health information. No action will be taken until we have valid proof that this person has this authority.
Your Rights Regarding How We Share Your Information
For certain health information, you can tell us your choices about what we share. If you have a clear preference for how we share your information in the situations described below, tell us what you want us to do and we will follow your instructions.
You have to right and choice to tell us to share information with your family, close friends or others involved in your care.
Share information in a disaster relief situation (If you are unable to tell us your preference, for example if you are unconscious, we may go ahead and share your information if we believe it is in your best interest. We may also share your information when needed to lessen a serious and imminent threat to health or safety).
Without your written permission, we will never share your information for marketing, purposes; sale of your information or most sharing of psychotherapy notes.
If we contact you for fundraising you may tell us not to contact you again.
Our Responsibilities
We are required by law to maintain the privacy and security of your protected health information.
We will let you know promptly if a breach occurs that may have compromised the privacy or security of your information.
We must follow the duties and privacy practices described in this notice and give you a copy of it.
We will not use or share your information other than as described here unless you will tell us we can in writing. If you tell us we can, you may change your mind at any time. This must be done in writing.
Changes to the Terms of This Notice
We can change the terms of this notice and the changes will apply to all information we have about you. The new notice will be available upon request, in our office and on our website.
Complaints
STATCare Medical Clinics strive to protect our information to the fullest extent. You may file a complaint with us or with the Secretary of the United States Department of Health and Human Services if you believe your privacy rights have been violated.
To file a complaint with us, contact our Privacy Officer at the address listed below. All complaints must be made in writing and submitted within 180 days of when you knew or should have known of the suspected violation. There will be no retaliation against you for filling a complaint.
Mailing Address:
STATCare Medical Clinics
1017 Delaware Avenue
McComb, MS 39648
Telephone:
Fax: (601) 250-0290
Email:
To file a complaint with the Secretary, mail it to: 

Mailing Address:
Secretary of the U.S. Department of Health and Human Services
200 Independence Avenue, S.W.
Washington, D.C. 20201
Telephone:
Website:
This Notice was revised January 26, 2017
Effective Date: February 1, 2017
Experienced Professionals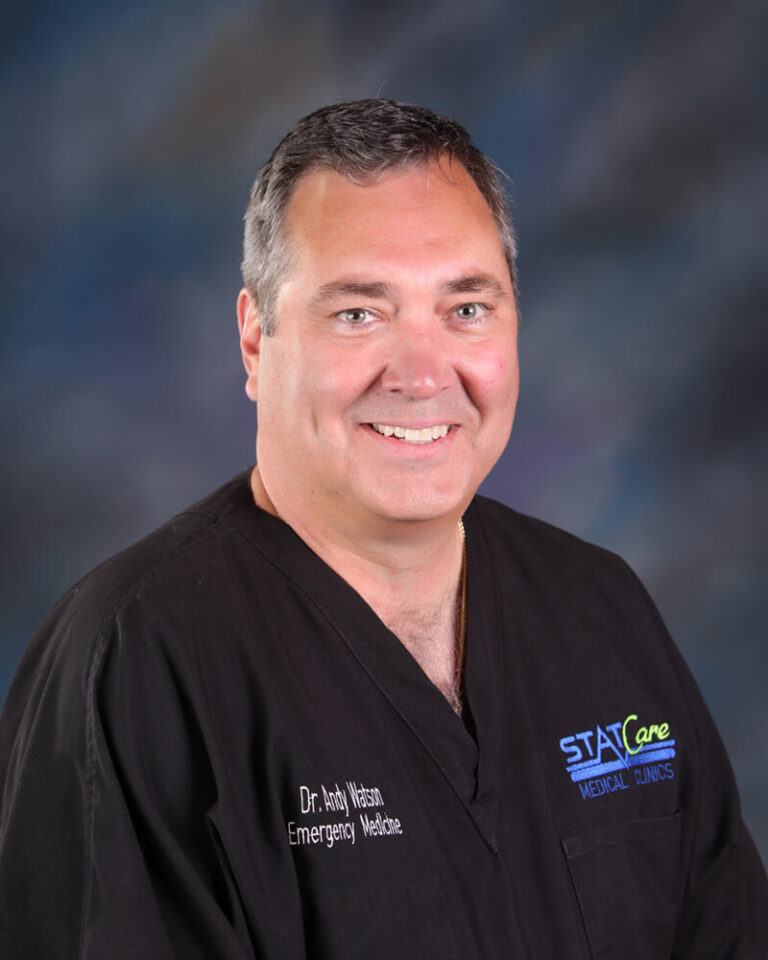 Dr. Andy Watson serves as the Chief Medical Officer of STATCare Medical Clinics. Certified by the American Board of Emergency Medicine, Dr. Watson has worked in the emergency services, urgent care, and primary care for over 25 years.
Married to his wife Courtney, they have three adult children; Blass, Brittany and Brandt. In his spare time he enjoys outdoor activities, tree farming, hunting and boating.
From coughs and Covid to cuts, sprains and strains, Dr. Watson and his staff are ready to help you with your urgent care needs
Brett Tisdale, M.D. has been with STATCare Urgent Care since 1997. Board Certified in Emergency Medicine, Dr. Tisdale has over 24 years of experience working in an ER/Urgent Care setting.
When he's not working, Dr. Tisdale enjoys spending time with his wife and three children, as well as fishing and photography.
Ready to treat your aches and pains, cuts and sprains – when those unexpected accidents or illnesses happen, come see Dr. Tisdale and his team at STATCare Urgent Care in McComb.
Plus One Medical Clinic – McComb
Chris Bracey has been with STATCare Medical Clinics for 4 years as a Family Nurse Practitioner. Prior to becoming a Nurse Practitioner, Chris spent 12 years as a Registered Nurse.
Chris and his wife, Kaylan, have two children – Cooper and Brooks. During his spare time, Chris enjoys raising beef cattle on the family farm, hunting, riding horses and playing golf.
Achieve your healthcare goals by visiting Chris and his staff, Jinnie and Allison, at Plus One Medical Center in McComb.
Plus One Medical Clinic - Summit
Jodi Waller has been with us for 3 years as a Nurse Practitioner at Plus One Medical Clinic in Summit. With over 14 years of experience assisting patients, Jodi has the expertise to help you achieve your healthcare goals.
Jodi and her husband, Jared, have two children, Bracey Lynn and Bennett. During her spare time, she enjoys camping, reading and spending time with her family.
From your annual wellness check-up to long-term medical care, you can trust Jodi and her staff at Plus One Medical Clinic.
STATCare Plus Medical Clinic
John Harvey has been with us for seven years as a Nurse Practitioner at STATCare Plus Medical Clinic in McComb. With over 27 years' experience assisting patients, John has the expertise to help you achieve your healthcare goals.
John and his wife Brandi have two daughters, Emily and Abby. His hobbies include fishing, hunting and target shooting.
For all of your healthcare needs, you can trust John and his staff at STATCare Plus in McComb.
Dr. Scott Smith is a staff physician, board certified in Emergency Medicine. He's also one of the cofounders of STATCare Medical Clinics. Practicing in McComb for almost 30 years, Dr. Smith is a native of the area and  graduated from McComb High. In his free time, Dr. Smith enjoys spending time with wife, Nancy, and their two sons, Quentin and Oliver at their family farm. He also enjoys hunting.

Ready to help with all of your urgent care needs, you can visit Dr. Smith and his team at  McComb's premier urgent care clinic, STATCare Urgent Care
Jackie Brister, F.N.P. began his nursing career in 2000 after operating a dairy farm for 13 years. Receiving his ADN at Southwest MS Community College and completing his Bachelor and Master's Degrees in Nursing at the University of Mississippi Medical Center, Jackie worked at Southwest MS Regional Medical Center in the Emergency Department as an RN. After completing his Family Nurse Practitioner certification in 2006, Jackie joined the team at STATCare Urgent Care and has been a vital member of our team ever since. Together with his wife Tonya, they have 4 children and 6 grandchildren. During his spare time, Jackie likes to go boating, complete home improvement projects, garden and spend time with family and friends. Jackie thoroughly enjoys working with his STATCare family, helping others and getting to know his patients. Ready to help with all of your urgent care needs, come see Jackie Brister and his team at STATCare Urgent Care in McComb.
STATCare Plus Medical Clinic
Dr. Brett Ferman, M.D. has been a physician at STATCare Plus since 2013 and Emergency Department physician at Southwest MS Regional Medical Center since 2003. He has been married to his wife Lisa for 12 years. He is an active member of the Episcopal Church of the Mediator/Redeemer. Dr. Ferman's hobbies include spending time with his four dogs and anything to do with cars. Dr. Ferman and his staff at STATCare Plus have a genuine concern for his patient's well-being and overall health. Dr. Ferman and his staff welcome the opportunity to work with you in achieving your healthcare goals.
Darryl Temple, F.N.P. is a nurse practitioner at STATCare Urgent Care. He has been practicing at STATCare since 2004. Married to his wife Melissa, they have three children, Bryce, Cameron and Carson. He likes spending time with family, friends and the family dogs, Charlie and Flo. He is a certified YouTube mechanic/carpenter who also partakes in an occasional golf game in his spare time. Darryl enjoys meeting new people and has always appreciated the opportunity to be involved in the medical care of his patients in our community